Hop On Hop Off Tours: autobuses turísticos para descubrir las ciudades del mundo (2020)
Los Hop On Hop Off Bus Tours se han convertido en una manera muy popular de conocer los principales puntos turísticos de las grandes ciudades alrededor del mundo. Tomar un autobús turístico hará de tus recorridos algo más práctico, sobre todo si buscas las mejores fotos para su Instagram, con un solo medio de transporte.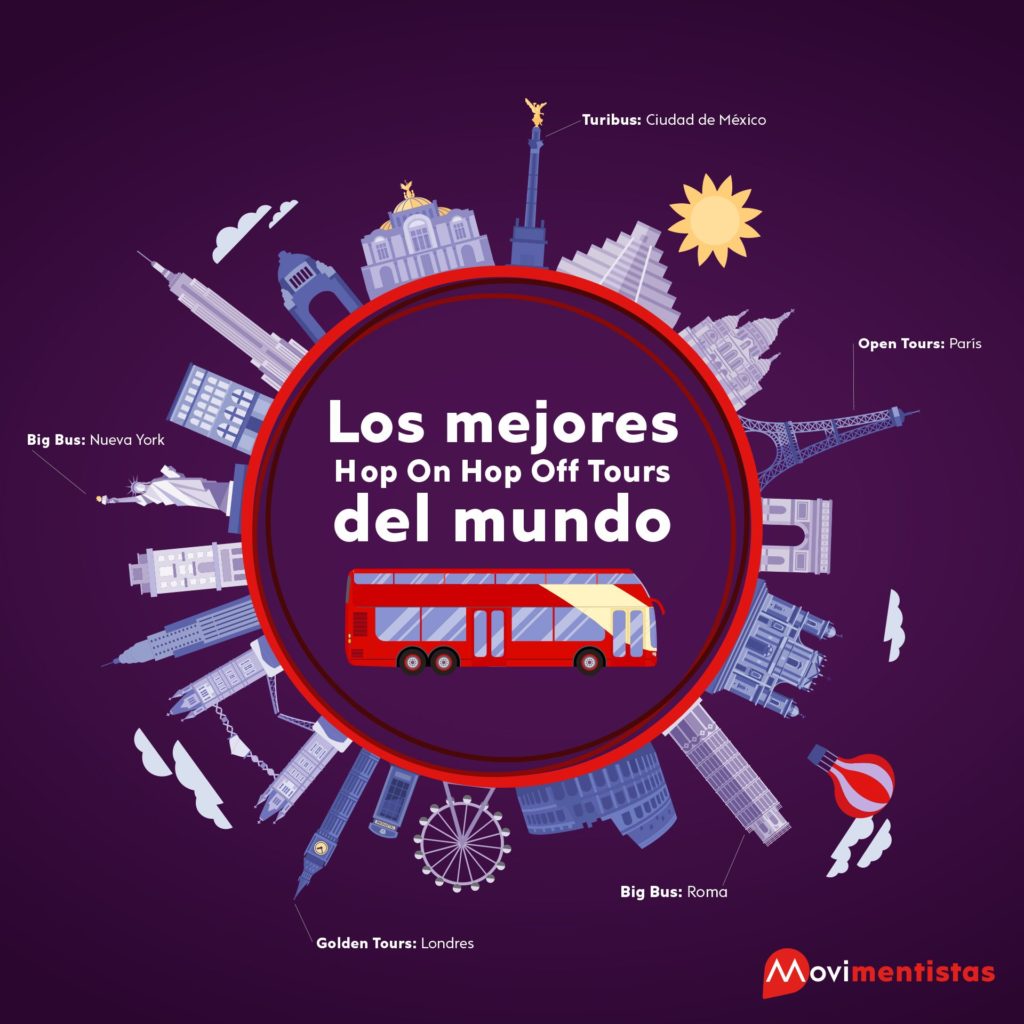 Estos son los 5 mejores Hop On Hop Off Tours de autobuses turísticos: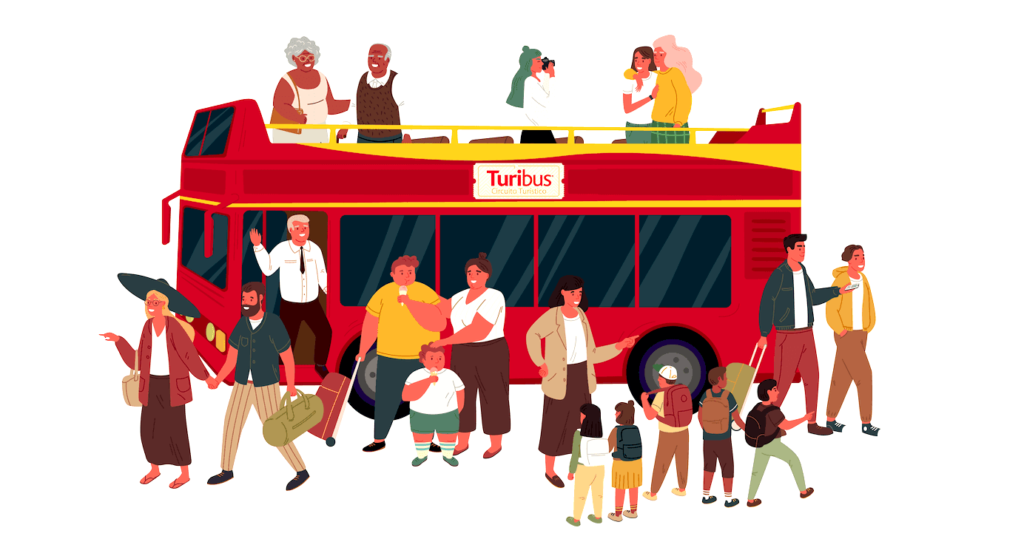 1. Turibus: Ciudad de México
Si vienes de fuera, amarás ver Ciudad de México así, y si eres de aquí, entonces tal vez no sabes de lo que te has perdido. Este autobús turístico ofrece Hop On Hop Off Tours en cuatro circuitos: Centro Histórico, Sur, Polanco y Basílica, y están abiertos todo el año.
Manejan audioguías en español, inglés, francés, italiano, alemán, japonés y portugués, y cuentan con un canal adecuado para niños de 4 a 12 años, perfecto para tus hijos. Además de que tienes la confianza de que llevan desde el 2000 dando estos city tours.
Para todos los que se sienten aventureros: 12 destinos únicos, fuera de la CDMX, para experimentar México.
Dentro de las paradas populares están el Auditorio Nacional, la Fuente de la Cibeles, el Hemiciclo a Juárez, el Zócalo, el Museo Frida Kahlo, MUAC, Fonart y la Basílica de Guadalupe, lugar de peregrinación para miles de mexicanos.
Además el Turibus tiene experiencias temáticas, como las Turiluchas los martes, viernes y sábados que te lleva a la Arena México y te deja convivir con un luchador durante el traslado.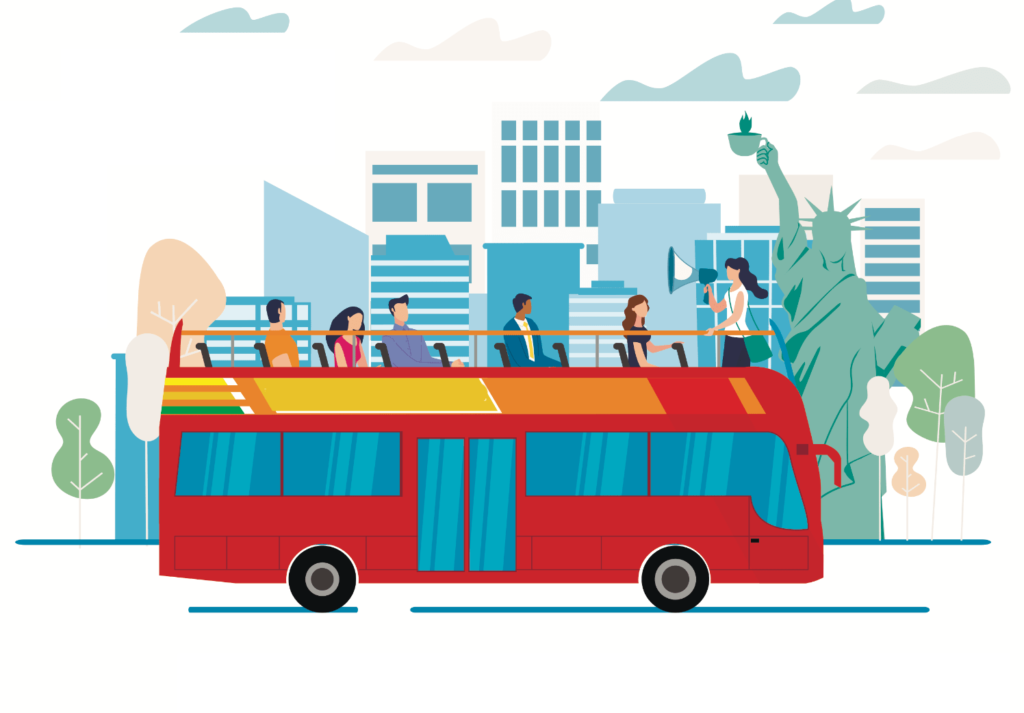 2. Big Bus: Nueva York
La ciudad de Nueva York no necesita presentación, pero si necesitas que te den una vuelta, estos tours son una verdadera joya. El boleto clásico del autobús turístico Big Bus incluye un día en las rutas de Downtown y Uptown, y será la mejor forma de conocer la urbe americana.
Sin embargo, la verdad conviene comprar el Premium con acceso al Empire State. Este cuenta con dos días de los tours, además del nocturno donde podrás ver cómo se ilumina la ciudad, un crucero a la Estatua de la Libertad y tu entrada a uno de los edificios más icónicos del mundo.
Wall Street, el puente de Brooklyn, el museo Guggenheim, la catedral de San Patricio, la iglesia de la Trinidad, Broadway, Bryant Park y Chinatown son tan solo algunas de las paradas disponibles de este servicio Hop On Hop Off.
3. Golden Tours: Londres
Otra cuestión que fascina en los Hop On Hop Off Tours es el segundo piso sin techo, eso te permite sentir todo más de cerca y desde una perspectiva que no se puede lograr caminando; detalle que no pasa desapercibido si ya te has subido en alguna ocasión.
El servicio de los autobuses turísticos Golden Tours cuenta con 4 líneas. La ruta amarilla, que pasa por la mañana por la zona de hoteles para llevarte al centro de la ciudad, donde te esperan las rutas azul, roja y naranja que te llevarán por la Torre de Londres, The London Eye, el Palacio de Buckingham, el Big Ben y Kings Cross.
Puedes escoger solo subirte a sus autobuses, aunque también seleccionar algún paquete para entrar a ver los muñecos de cera de Madame Tussauds o subirte a The London Eye y tener la mejor vista de todos los distritos de Londres.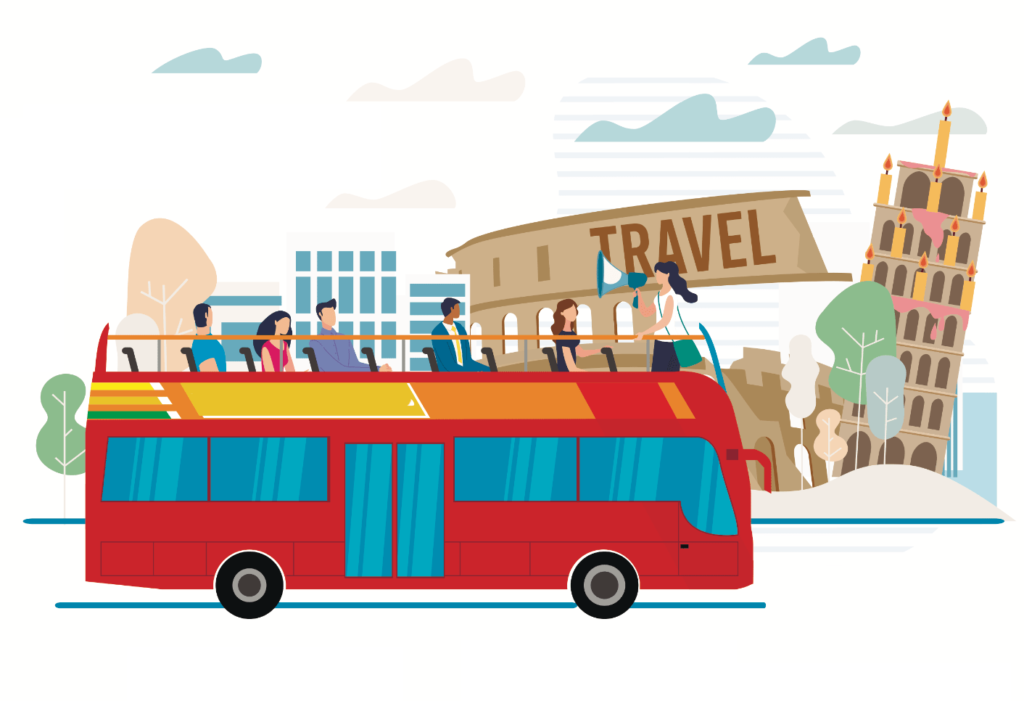 4. Big Bus: Roma
Muchas de las compañías de Hop On Hop Off Tours no se limitan a una sola ciudad, lo cual es grandioso pues así puedes visitar varios rincones del mundo y encontrar la misma calidad en el servicio.
La compañía de autobuses turísticos Big Bus también se encuentra en Roma, ciudad fundada hace más de 2,000 años y con una mezcla de construcciones antiguas y nuevas. En sus rutas cuentan con visitas a la Basílica de San Pedro, Piazza Navona, el Panteón Romano, las Escalinatas Españolas y el Circo Romano.
La ciudad es una de día y otra diferente de noche. A las 19:30 horas sube de nuevo para descubrirlo, y no se te olvide hacer una parada para cenar pizza acompañada de un buen vino italiano, al cabo que tú no vas manejando.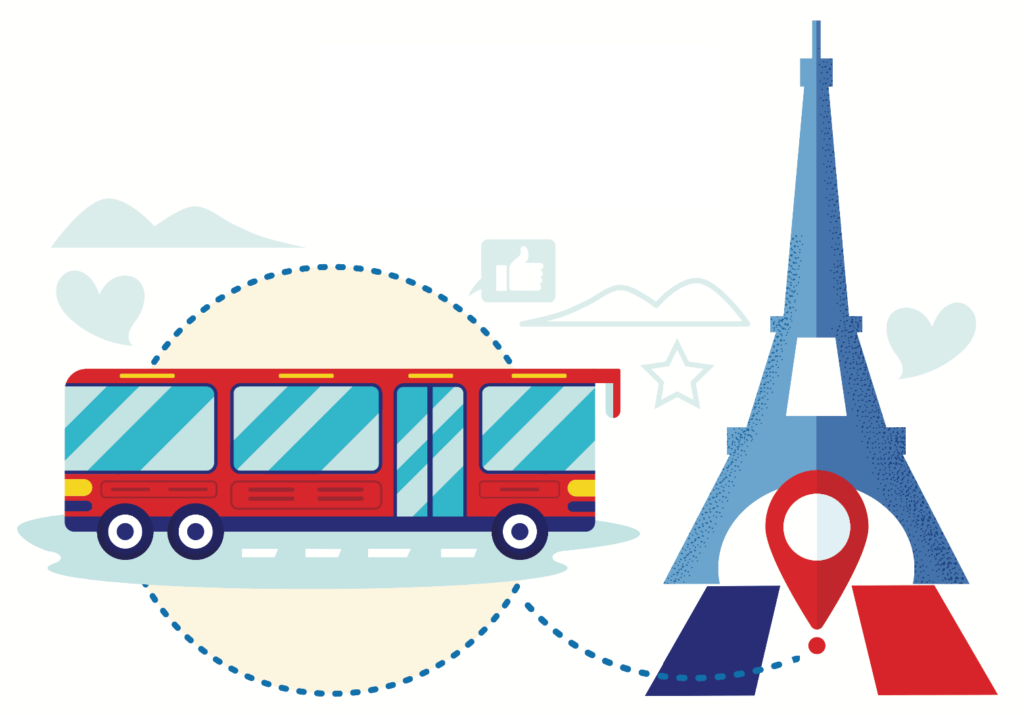 5. Open Tours: París
Con 50 paradas diferentes y acceso, desde éstas, a más de 100 de los lugares más notables e imperdibles. El autobús turístico Open Tours, con servicio Hop On Hop Off, seguro te llevará a donde sea que quieras ir en la Ciudad de la Luz, sin ningún problema.
La Torre Eiffel, la Ópera, el Louvre, Notre-Dame, Campos Elíseos, el centro Pompidou, Moulin Rouge y Montmartre están cerca de ti. Además de que hay un camión que te lleva de la estación de Lyon a los otros tres circuitos.
Mucha gente se queja de que es demasiado para ver en un solo día, así que es obvia la recomendación de comprar el pase de dos o tres días. Suma un crucero por el río Sena y definitivamente saliste ganando.
Hop On Hop Off Tours: ¿Por qué es mejor usar los autobuses turísticos?
Un Hop On Hop Off es una opción diferente de conocer el circuito turístico de una ciudad, pues no es uno de esos recorridos sin escape, puedes bajarte en cualquier parada y empezar a explorar en libertad.
Sí, es verdad que desviarse de los recorridos comunes te llevan a paradas solo conocidas por la gente que vive en las ciudades, pero no hay nada mejor para tu cuenta de Instagram que tener fotos en lugares como la Torre Eiffel en París, El Palacio de Bellas Artes en Ciudad de México o el Empire State en Nueva York.
Parte del encanto es que verás esos lugares pero también podrás bajarte en cada parada y seguir tu camino a lugares menos conocidos y concurridos. Aquel lugar hipster que viste o aquella cafetería llena de gatos que sigues en tus redes sociales, seguro están cerca de alguna de las decenas de paradas que hace este tipo de city tours.
También encontrarás que vienen con audioguías o un guía de carne y hueso que te enseña lo esencial de hermosos destinos como Roma, Tokio, Chicago, Budapest, Ámsterdam, San Francisco y más ciudades populares del mundo.
Estos autobuses turísticos también son de doble piso y el segundo suele no tener techo o es un techo retráctil. Eso deja atrás la vieja sensación de ir caminando, en alguno de tantos sightseeing tours, y mirar todo hacia arriba. Por eso el bus Hop On Hop Off da un enfoque nuevo a ciertos detalles arquitectónicos de estas urbes magníficas.
Algunos consejos extra antes de tomar un autobús turístico Hop On Hop Off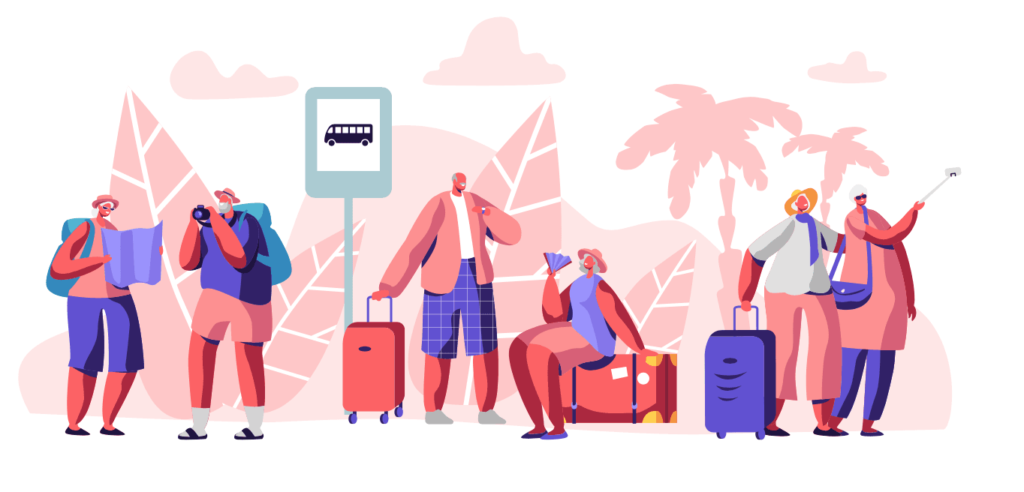 Si es la primera vez que tomas un autobús turístico tipo Hop On Hop Off, estos son algunos consejos que debes tomar en cuenta antes de aventurarte: siempre ten un mapa de la ciudad a la mano, los tours suelen brindarlo, a veces solo tienen las paradas, a veces son más completos, así que conviene traer el tuyo.
Toma en cuenta que la idea es que camines en los alrededores, así que siempre trae una botella de agua para rellenar durante las caminatas, además de que revises con anticipación qué lugares hay cerca de donde te bajarás, incluso es conveniente caminar de una parada a otra para gozar ciertas zonas de las ciudades.
No olvides tus lentes de sol, una gorra y bloqueador solar. Recuerda que vas a pasar varias horas no solo a bordo del autobús, también caminando por las calles y callejuelas encantadoras de la ciudad elegida, así que necesitarás la protección
El clima puede parecer perfecto, pero por experiencia te recomiendo traer paraguas e impermeable; nunca sabes cuando la lluvia atacará. También trae un poco de efectivo, pero trata de pagar con tarjeta.
---
¿Ya estás listo para probar los autobuses turísticos Hop On Hop Off en tu próximo viaje?
Ámsterdam, Jerez, Oslo, Barcelona, Budapest, Copenhague, Dublín, Atenas y muchas ciudades más tienen esta clase de recorridos. Así que entra en internet, busca el que más te gusta y resérvalo por adelantado, siempre es una ventaja.
Ahora sí estás listo para iniciar un viaje diferente en una nueva ciudad o en alguna de tus urbes favoritas. Así que ¡Cuéntanos! ¿Te gustan los autobuses turísticos Hop On Hop Off? ¿En qué ciudades los has utilizado? ¿Qué ciudades te gustaría conocer de esta manera?